Suspended Ceilings
Expert Suspended Ceilings for Your Melbourne Office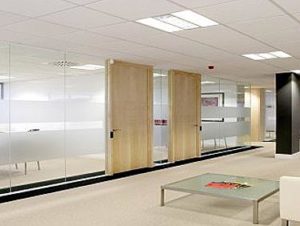 Suspended ceilings are in many cases an additional structure hung below the main structure of a given space. It may also be referred to as a T-bar, false ceiling or drop and is a staple of modern architecture and office workspace construction. The area above the dropped ceiling is referred to as the 'plenum space', as it is sometimes used for HVAC air return. The plenum space is also very commonly used to conceal duct systems, piping, and electrical wiring.
Office Fitout Solutions can offer you the right solution from a range of manufacturers to suit any application, including both commercial and suspended ceilings.
Good buildings come from good people and all problems are solved by good design. – Stephen Gardiner
Exposed grid systems are a streamlined and cost-effective way of installing a ceiling to your office or workspace. These grid systems allow no-fuss access to the ceiling space for related trade work such as air conditioning and electrical which will ensure you get the best price for the work we outlay.
The major benefits of installing a suspended ceiling
Fire safety is always an incredibly important factor, therefore ceiling tiles made from mineral fibres or fire-rated wood panels are always used within the construction to meet acceptable public standards. These same panels can provide the required additional resistance to meet the 'time rating' needed for various fire codes, commercial, city ordinance, or other similar building construction regulations.
Another benefit of suspended and commercial ceilings is that the quickly removed tiles provide quick access to the plenum, greatly simplifying repairs or alterations.
Get in touch
We're always on hand to discuss what we can provide to improve your workspace. Get in touch and tell us what you need – we'll be happy to show you how we can make it happen.