A Natural Commitment to Sustainability
EDUN is a progressive fashion company that was founded on the premise of trade for aid as a means to create jobs and alleviate poverty. Their aim is to raise awareness of the possibilities in Africa and encourage the fashion community to do business there.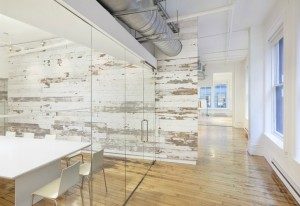 EDUN needed an office that represented their commitment to sustainability and Spacesmith was just the design firm to do that. They were contracted to design EDUNs new 8,600 square foot office in New York on the corner of Grand and Mercer Streets in Soho.
Their design was intended to keep the new construction to a minimum while allowing natural daylight to penetrate into the space and to embrace EDUN's commitment to sustainability.
The nice office fit out was designed using reclaimed and salvaged materials and furnishings, all the while working with local vendors, and craftsmen to complete their workspace.
I can't get enough of the distressed wood floors and reclaimed white washed wood walls. The materials used give the office a very modern, but warm country cottage feel, which draws people into the space.