eOffice The Alternative Workspace
Located in the heart of Soho, one of Londons most exciting and trendy areas, eOffice could potentially be the new location of your company's office. Whether you are an up-and-coming startup group, freelancer, or new business, you have the option to house your company within one of eOffices many thoughtfully planned and innovative office spaces that boast ergonomic furniture systems, original art and impressive meeting and conference rooms.
eOffice is a community office space where you have the option and flexibility to choose an office environment that best fits your companies needs, regardless if you are looking for a permanent or temporary office space, a location for your meeting, or a virtual conference room.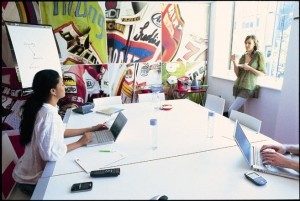 The offices of eOffice are magnificently designed and award-winning, combining a cool blend of Italian fixtures and furnishings with gutsy graphic design and photography that mimics its very cool Soho location.
Their aim is to help business executives work in a cost-effective environment without having to sacrifice professionalism and prestige. Plus, their offices are fully loaded with all the latest high-tech gadgets, leaving you looking for reasons to stay longer at work.
The collaborative efforts from creative director Pier Paolo Mucelli and graphic designer Edward Ashley Carter, along with furnishings from Kristalia, created an impressive commercial fitout that has allowed businesses to be more productive, collaborative, and improve the interactions with their clients.