7 Awesome Melbourne Co-working Spaces
Sick of wearing a suit to work every day (or those awful mid-length tight skirts that show your undie line no matter WHAT type of knickers you're sporting)? We've got you covered. Well actually, Melbourne has you covered, with lots of convenient, trendy and super fun co-working spaces around town.
Here are the coolest coworking spaces in Melbourne.
WorkSmith
In a nutshell, these guys are all about empowering the talent behind our Aussie food and bev industry. Whether you're a restaurant owner, a restaurant operator, a chef requiring a commercial space, a hospitality-driven technologist (whatever the hell that is) or a food journo, this is defs the coworking space for you. WorkSmith is set up with several rooms, including a bar that can hold 80 standing people, plus a dedicated podcasting room with all equipment provided. Everything but the kitchen sink (although they have one of those too).
Where: 450 Smith Street, Collingwood
WeWork
Alright, if you're looking for somewhere trendy to get your work done, WeWork is probably the hottest name in Melbourne coworking right now. Their new digs on Collins St are seriously cool, with teams of artists, designers and engineers behind all of the custom-built spaces (spanning freaking 11 floors). Each room prioritises natural light, comfort and inspiration, providing a cosy space where you can get your work done happily. These guys have over 210,000 members across the globe, so they must be doing something right.
Where: 114 Williams Street, 401 Collins Street & 152 Elizabeth Street
Revolver
Well, who would've thought…Revs is actually a respectable place to get some work done (and just work, thank you very much). What was formerly the Revolver Music Arcade is now a cavernous 1000+ square meter workplace with 15 offices, casual lounges, event and meeting spaces. The guys at Revolver specialise in tech start-ups, and they've morphed the best of new-school and old-school office spaces. It's pretty reasonably priced as well. You can get your hands on a casual membership for 300 bucks a month, or amp it up to a permanent membership for just $500. That ain't bad.
Where: Revolver, 231 Chapel St, Prahran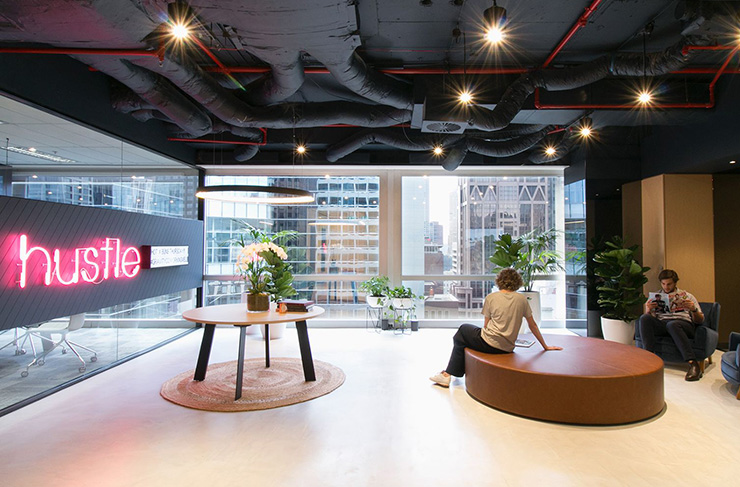 Gravity Co-Working
This place kind of echoes the vibe of a really cool, newly renovated uni library. It's pretty open, but there are lots of little rooms you can book if you need privacy for that all-important phoner. Gravity's function and event spaces are available all week long, with staff there to help you set up and run multi-media plugins etc. These guys do it all—from sophisticated dining, unique product launches, professional presos and seminars and chic, cocktail functions. Good one if you're looking for a home in the CBD.
Where: 114 Williams St, CBD
Windsor Workshop
Now here's a place we'd like to sit down with a cup of coffee and bust out billions of articles. The Windsor Workshop is a super artsy, vibrant and open studio. Windsor Workshop isn't the biggest space, but it's the vibe that really matters, right? With wooden floors, plenty of windows and indoor plants everywhere you turn, you can't really go wrong working here. Current co-workers include sports club entrepreneurs, journalists, illustrators, photographers and fashions designers. Imagine the networking potential…
Where: 1/115 Chapel St, Windsor

Photography: Creative Spaces 
The Cluster
This one takes the cake for best views. Situated on Queens St and overlooking the Yarra (it's fancy AF), we could defs set-up shop there. The Cluster provides more than 2500 square meters of good office space, including shared work areas (if you want to chat 24/7) and private offices (if your blood boils when Jenny won't shut up when you're trying to work). There are some pretty cool boardrooms and meeting rooms too, with copper chandelier-like lights, reliable fast internet (because we all know how hard that is to get these days) and IT support (for the technologically incapable aka me).
Where: 17/31 Queens Street
Creative Cubes
When Creative Cubes opened up in Richmond, they went from 0% to 100% capacity in seven months. They're about to launch a second coworking space in Hawthorn to keep up with demand. Start with the important stuff: yes they have a table tennis table. They also have private conference rooms, extra fast wifi, full kitchen, fresh fruit, concierge services, access to exclusive events and lots of coffee. Day passes start at $29/day, or there are a range of membership options you can check out.
Where: 534 Church St, Cremorne